Invisalign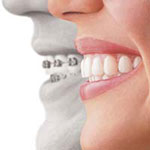 For those who don't want to endure the "braces" look or who don't want to put up with the discomfort of sharp and bulky orthodontic braces, Invisalign is an attractive alternative and it works!! Unfortunately it doesn't work for some cases.
But if you have a case that is mainly crowded and not skeletally misaligned, Invisalign technology is quick and easy and largely invisible during treatment.
Invisilign is a technology whereby models are taken of your existing teeth. From these models computer imaging is done and a pathway is designed to correct your malocclusion. From the computer imaging, clear plastic "retainers" are made to gradually move your teeth into their ideal position. Sometimes as many as 12 or 13 appliances are made 13 and changed every 3 to four weeks or so. So all you have to do is change your appliances when your dentist tells you to until your teeth are straight. Then usually you can use the last appliance as a retainer to keep them straight.
The down side to Invisilagn is that all the appliances have to be made at the start of the case, and that requires a large expense to the dental laboratory. So there is a large up front cost necessary. The lab usually charges their cost and profit up front, or about $2,850, for a $ 5,000 case.