Dr. Alleman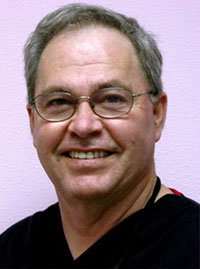 Dr. Alleman earned a Bachelor of Science degree at the United States Naval Academy and then served as a naval aviator during the Vietnam War era. After several years of civilian employment in industrial management, he returned to school and earned his Doctor of Medicine in Dentistry (DMD) degree awarded by the Medical College of Georgia, in Augusta, Georgia.
After graduation from dental school, Dr Alleman served in the U.S.Public Health Service. While serving with the Indian Health Service branch, he had the opportunity to study and work with the highly trained dental specialists in the Service's residency training program. In addition, and at his own expense, and during his leave time, Dr. Alleman attended the L.D. Pankey Institute for Advanced Dental Learning where he was introduced to the concept of Excellence in Dentistry.
Dr. Alleman and his Family moved to The Dalles and opened his office here in 1985. His Wife, Carolyn, is employed as Director of Medical Records at The Mid-Columbia Medical Center. Their Children are Alice, Wendy, and Charlie.
Dr. Alleman continues to study dentistry at every opportunity through highly respected and credentialed teaching programs sponsored by the Oregon Health Sciences University, the Academy of General Dentistry, and the American Dental Association.
He is a graduate of many nationally recognized institutes of higher dental learning, including: The Center for Professional Development, The L.D.Pankey Institute, the Lee Institute for Orognathic Bioesthetic Dental Rehabilitation, and the Richard V. Tucker operative study group for fine gold restoration.
Dr. Alleman's dedication and competence have been recognized by his induction as a Master in the Academy of General Dentistry, by his induction as a Fellow in the American Society of Dentistry for Children, and by his induction as a full member of the Academy of Cosmetic and Adhesive Dentistry.