Air Abrasion (drill less) Dentistry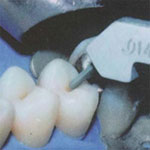 Air abrasion, also called "micro abrasion" and kinetic cavity preparation, is a method of tooth structure removal considered to be an effective alternative to the standard dental drill.
Air abrasion technology functions much like the sandblasting technique used to clear graffiti from walls. An air abrasion hand piece blows a powerful air stream of tiny, fine aluminum oxide particles out of its tip onto tooth structure. Air abrasion uses the kinetic energy principle, in which particles bounce off the tooth and blasts the decay away.
It most commonly is used to prepare various types of cavities to be restored with composites, or "white fillings." Air abrasion also can be effectively used to repair cracks and discolorations, prepare tooth surfaces for bonding procedures, and perform additional procedures.