Diagnodent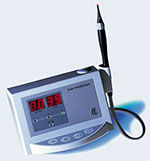 One of the most important things we do for our patients is to identify and fill cavities. Since even the smallest spot of decay can threaten the integrity of the entire tooth, finding and filling cavities is the key to preventing further problems of all kinds. Historically, that's why lengthy poking and prodding sessions have been an acceptable, if not very comfortable, part of typical dental exams. However, many people don't realize that these methods of decay detection are only 50% to 75% successful. Cavities often hide along fissure lines or inside the grooves on tooth biting surfaces.
Also, the traditional, mechanical and low tech methods are limited to finding only those cavities that are equal to or larger than the probe head. That¥s why we have invested in DIAGNOdent: a revolutionary new, thorough means of detecting cavities, so your exam can be fast, easy and accurate to the nth degree.
Using DIAGNOdent laser technology allows us to catch more areas of decay sooner and with more precision than ever before. It just makes sense in dentistry that a "stitch in time saves nine". No longer will we have to wait and watch suspected cavities until they are large, we can nip them in the bud - now!
Catching decay early means that fillings required are simpler and shallower, preserving more of the tooth. This allows us to use minimally invasive restorative procedures, such as drill and shot free air abrasion microdentistry and bonding to restore your teeth beautifully, conservatively and comfortably. Better than ever before!