Porcelain Veneer Laminates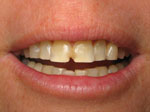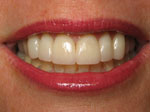 Dr. Alleman many times uses porcelain veneers for the same purposes as he uses for direct or indirect composite bonding (cracked or worn teeth, gaps, crooked or discolored teeth).
Porcelain veneers are very thin shells (laminates) of quality porcelain (sort of like false fingernails). After a minimum preparation (sort of like sanding), an impression of the teeth is taken and our lab technician makes the very thin and refined porcelain veneers.
I'm always amazed by the skill and artistry of the lab technician¥s veneer technique! After laboratory fabrication, the veneers are bonded to the teeth.
Porcelain Veneers are the utmost in quality and refinement for the cosmetic case. The indirect technique used in fabrication, allows exquisite control of shape, thickness and quality control. The porcelain material is the cleanest, strongest and most life like of all the bonding materials. It is also the most durable, by far.
Once they are bonded in place, Porcelain Veneers look, last, feel and function like natural teeth. They are very strong and beautiful!