Tooth Colored Fillings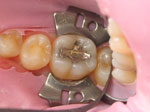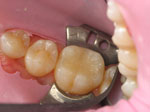 For over a century, the dental amalgam fillings made of a mixture of silver, tin, mercury and copper have served us well. In certain cases it still has a place today. But now we have better materials and techniques to repair teeth that have been damaged by decay. Amalgam is used to fill the cavity where the decay has been removed. The problems with amalgam fillings are that they seriously weaken any tooth in which they are placed and, over time they leak and corrode causing sensitivity, cracked teeth and discoloration of both the filling and the tooth. I call amalgam filings "black" fillings, because they are only silver for a short time before corrosion causes them to turn "black". For many of us, this can be embarrassing when we open our mouths.
Today, we can provide you with tooth colored restorations (composite or porcelain), which require much less invasive preparation. The filling material is bonded to the tooth to strengthen and seal it from harm. It is strong, stain resistant, and almost invisibly matched to your natural teeth. Today's tooth colored restorations solve many of the problems associated with amalgam fillings. They are especially suited for smaller cavities and for those who might be allergic to metal fillings.