Dental Implants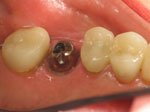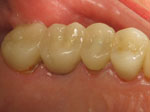 Losing a tooth by accident or extraction is not the end of it all, because there are options for restoration. But it is not something that can be ignored either, and immediate action is important.
When a tooth is missing, the resultant gap will allow nearby teeth to tilt or drift and the teeth above the gap will move downward. Sooner or later you will have more problems!
Aside from the obvious cosmetic problem, the changed positions of these teeth can lead to more lost teeth, gum problems, decay, severe bite problems, jaw pain and headaches.
Missing teeth should be replaced to keep the other teeth in their proper position for optimum support. This can be done by fixed bridges, removable partial dentures or by fixed implants.