Tooth Whitening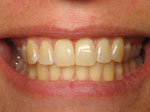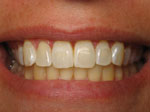 Tooth bleaching involves the placement of a gel solution on the teeth to eliminate stains and discoloration. The solution is held in place by a custom made, see-through tray that fits over the teeth. It is a safe, easy way to whiten teeth. Today, bleaching is probably cosmetic dentistry's most common procedure...everybody's doing it!
Bleaching is one of the nicest developments to come along in cosmetic dentistry. My staff and I use it and we are living testimony that it works and that it is fun!
We have evaluated many types of bleaching methods and materials. The one we currently like best is called Pola brand and is a hydrogen peroxide gel method. The Pola gel comes in several different concentration strengths. Results largely depend on each person's individual tooth, concentration of bleaching agent, and time wearing the bleaching trays.
Sensitive teeth or those which are chipped, eroded or weakened by cavities should be repaired before bleaching.
Is Tooth Whitening Safe?
Research has proven bleaching to be both effective and safe. The American Dental Association has given it's seal of approval to a wide range of tooth whitening products.
Generally, the only side effect from treatment may be some sensitivity to hot or cold food and drink. If this occurs, sensitivity normally disappears within 48 hours.