Porcelain Crowns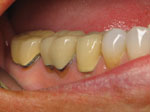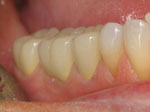 A crown is a restoration which can replace the entire top (crown) of a tooth. It is necessary when damage to a tooth removes too much internal structure to be able to restore it with an ordinary filling. The restoration must be done with a technique which will strengthen and hold the tooth together, stand up to greater force, and satisfy increased cosmetic demand.
Cosmetic crowns are constructed by an indirect technique which allows our lab technician to achieve much greater fit and contour of your restoration to match your existing teeth.
Different types of cosmetic crowns can be made, depending on your individual need for strength in function or for finesse in esthetics. Modern materials allow us to achieve more natural results than has ever before been possible.